Homemade Window Cleaner Recipe for Cleaning Glass Easily
Commercial glass cleaners are expensive and not very effective. You can easily make your own window cleaner at home using readily available ingredients that will be much cheaper and do a better job. Most commercial glass cleaners contain ammonia, chemical bleaches, detergents, artificial colours and various unknown additives and compounds. Some contain toxic additives such as naphtha, and glycol ethers and some contain wax that builds up as a residue of the windows.
Various consumer organisations found many commercial glass cleaners did not clean windows any better than plain water. Homemade glass cleaners contain readily available non-toxic ingredients that are biodegradable and are not derived from petroleum products.
This article includes a range of glass cleaner recipes and a guide and tips to get your windows clean with a streak-free shine. So why not give these recipes a try?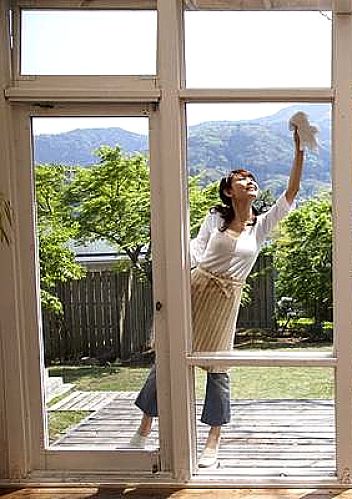 Tips Guides and Recipes for Various Purposes
Window Cleaning Guide and Tips
Spray the windows, inside and out with your preferred cleaner, brush with a soft brush and then wipe thoroughly clean with crumpled newspapers which helps prevent streaks. Otherwise you can use a lint free cloth.
Don't clean glass when the sun is hot and shining brightly. The cleaner will dry before you have a chance to wipe it off and will leave streaks.
Persistent streaks can be caused by wax, smoke, cooking oil build up and residues from commercial cleaners used previously. Use the alcohol-based cleaner shown below to get rid of the wax and oil, and then use the vinegar cleaning recipes which are less harmful on the environment.
Wipe inside glass in a vertical direction and outside glass in a horizontal direction, so you can see which side has streaked and needs polishing.
A soft blackboard eraser is ideal for quickly polishing windows after cleaning to remove any remnants of streaks. This gives the glass a wonderful shine
Recipe 1. Super Basic Cleaning Recipe (vinegar)
► 1 1/3 cups (330ml) clean water
► 2/3 cup (170ml) white vinegar
► 5 drops lavender or lemon essential oil, or any other natural fragrance

Combine well and add to a spray bottle.
Recipe 2. Streak removing Cleaner (alcohol)
► 1/2 cup (125ml) water
► 1/2 cup (125ml) rubbing alcohol
► 1/4 teaspoon (2ml) good quality liquid dish washing soap
fragrance (optional)

Combine, shake well and pour into a spray bottle.
Recipe 3. Heavy Duty Glass Cleaner
Use this for really grimy, greasy and dirty windows

► 1 cup (250ml) water
► 1 cup (250ml) vodka or rubbing alcohol
► 1/4 cup tea tree oil or eucalyptus oil
► 1 teaspoon (2ml) liquid dish washing soap

Combine all ingredients and pour into a spray bottle and shake before using.
Recipe 4. Heavy Duty Glass Cleaner Version 2
► 2 cups rubbing alcohol
► 1 teaspoon bio-degradable liquid dish washing detergent
► 1/2 cup ammonia
► 1 gallon (4 litres) of water
Mix and add to a spray bottle
Recipe 5. Basic Window Cleaner using Lemon
► 3 tablespoons of lemon juice (freshly squeezed and filtered through fine mesh)
► 1 teaspoon cornstarch
► 2 cups club soda or aerated mineral water

Combine all ingredients, making sure the cornstarch is fully dissolved, and pour into a spray bottle then shake thoroughly before using.