Homemade Liquid Corn Starch Recipes for Ironing Linen and General Ironing
Starch sprays are one of those things that make ironing a breeze, especially for linen and cotton shirts.
Starch sprays also help give your clothes a clean, crisp and fresh look, nice smell and a firm feel. Starch sprays also makes your clothes more resistant to dirt and stains.
They also help preserve and look after your clothes. Using these sprays when ironing ensures your clothes look fabulous as it helps your clothes be more resistant to wrinkles.
The good news is that you can make homemade ironing sprays, with corn starch that work better than commercial sprays.
Homemade sprays are healthier and are much environmentally friendly. Some commercial sprays contain formaldehyde and other nasty preservatives and chemicals.
The heat of ironing releases these chemicals intro your face. Spray cans have propellants that may damage the ozone layer and be harmful in other ways. The cans themselves are not recyclable.
This article includes a range of fabulous homemade liquid starch recipes that are easy to make.
They use cheap ingredients that are readily available.
There are detailed tips for how to use homemade corn starch sprays for ironing clothes.
There are also guides for how to remove starch that may build-up on your iron.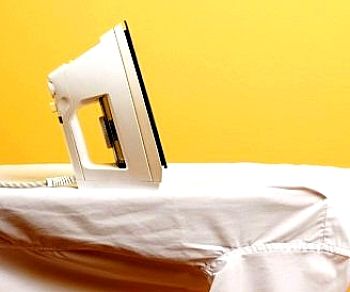 Recipe for Homemade Liquid Starch for Ironing
You can simply add a little corn starch to water in a spray unit and shake vigorously, but the boiling method is far superior and ensures the starch is fully dissolved.
1 Tablespoon of cornstarch
1/4 cup cold water
4 cup tap water
2-3 drops of lemon juice or a fragrant essential oil of your choice
Bring the 4 cups of water to the boil in a saucepan. Mix the cornstarch into a 1/4 cup of cold water. Stir vigorously until all the cornstarch is dissolved in the water. Slowly mix the cornstarch mixture into the boiling water. Remove from the heat, allow to cool and add the lemon juice or essential oil. Using a funnel pour the corn starch mixture into a spray bottle. The lemon juice acts as a preservative, but it should be kept in the fridge and a new batch made ever week of so. Warm the mixture to room temperature before use.
How to Use Homemade Corn Starch Spray
Below are some important tips on how to use homemade corn starch effectively:
For the best results, always use steam in your iron when using homemade starch.
Turn the item to be ironed inside out and flatten the area to be ironed on the ironing board.
Always shake the bottle of homemade corn starch mixture well before each use.
Hold the spray bottle about a hand-span away from the material and lightly spray a fine mist over the garment. Use more starch spray on cuffs and collars. Let the starch absorb into fabric for at least 30 seconds before ironing.
Iron from inside to outside using short strokes. Keep ironing each area until sizzle sound from ironing the spray starch on the clothes subsides. This ensures you have dried all the starch on the clothes so there is no residue, or build-up on the clothes.
If there are any white spots - check that the stray unit is producing an even fine mist and try diluting the solution with a little more water. You may also be ironing too soon after applying the spray starch, or you are using too much spray. The white spots will disappear when the area is sprayed with plain water.
Starch can burn, and so don't leave the iron in one spot for too long. Keep the iron moving.
Apply the starch spray and iron clothing such as shirts, dresses and other items just before use. Don't store starched fabrics in the cupboard for long periods of time.
Removing Starch Build-Up on the Iron
Allow the iron to cool down after each use and simply wipe it with a clean, damp cloth to remove any residue on the iron. This will help prevent and build-up.

If a build-up develops on the iron, dampen a clean, soft cloth with little vinegar and apply the hot iron to the dampened cloth. This will clean the surface of the iron. You can also use a little stain-remover on a cold iron, and then rinse off.