Homemade Natural Cleaners and Ingredients for All Household Cleaning
Many commercial cleaners are expensive, toxic and hazardous.
Many are too harsh and they damage your floors, walls and appliances, and burn your hand and lungs.
They leave dangerous residues that you can pick up on your hands and feet. Many of the fumes and residues are harmful for children and pets.
The good news is that you can easily make your own homemade cleaners using natural ingredients with cleaning properties. The benefits of natural cleaners are:
► They are good for you, and will not harm your family and pets.
► They are also gentle on the environment and the things that you cherish in your home.
► They are also much cheaper that the commercial chemical based cleaners.
► No more bleach smells and foul odors around your kitchen and bathroom.
This article provides a list of natural ingredients that have cleaning properties.
It also provides a list of simple recipes for a wide range of cleaners to use all around you home.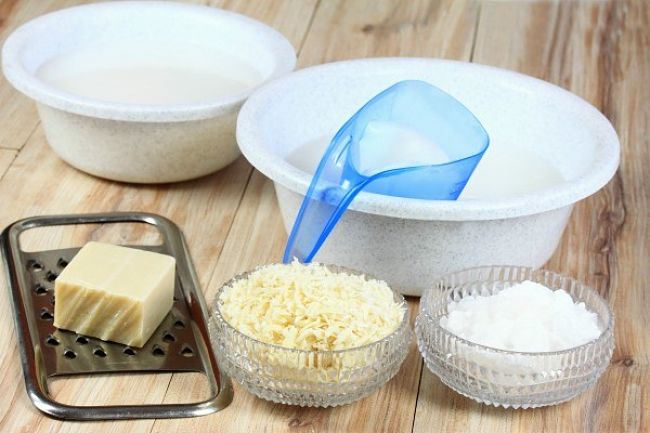 Natural Ingredients for Common Household Cleansers
Listed below are the common natural ingredients that are used for homemade cleaners and their properties and uses

Baking Soda - Absorbs chemicals and odors. It is a mild and gentle abrasive. Its power can be boosted by using it with vinegar, lemon juice of soda water. Thee features make it idea as a substitute for many bathroom and kitchen cleaners. Baking soda is also an excellent stain remover and can be used as a softener and cleaner in the laundry.

Borax - Is a natural mineral compound (sodium borate) that is widely available. It has a wide range of properties and can be used as a deodorizer, disinfectant, mild abrasive and mold inhibitor . Borax can also be used as a stain remover and as an alternative to harmful chemical bleaches. Borax is also an repel insects an is very useful for controlling ants. It can have harmful properties for pets and children and general precautions are needed to use it safely.

White Vinegar - Is a wonderful slightly acidic cleaner ingredient that leave little residue and a pleasant odor. It deodorizes, cuts grease, dissolves stains and mineral deposits. Vinegar is also an excellent fabric softener when added during the rinse cycle of your washing machine. Vinegar, which is n acid, when combined with baking soda, which is an alkali, generates a foaming action that is a very powerful yet gentle cleaner. It is suitable for most cleaning jobs in the kitchen and bathroom, toilet, floors. It is also an excellent stain remover and deodorizer.

Lemon Juice - Like vinegar it is mildly acidic and works well with baking soda. It is milder than vinegar and has more pleasant and natural smell. Lemon halves can be great for scrubbing the bottom of copper pots and for most baking pans and utensils. Lemon juice is a mild natural bleach, which can be combined with natural sunlight to get rid of stains. Lemon juice is a natural degreaser, and makes a great ingredient for liquid soap and detergent replacements for cleaning clothes and dishes. It is also useful for cleaning floors.

Soda Water - It has very mild acidic properties and can be used a a much milder replacement for lemon juice and vinegar.
Vegetable Oil Soaps - Vegetable oil based soaps are mild, natural and don't contain harmful chemicals derived from hydrocarbons. This include castile soap and many soaps made with olive and coconut oil. You can make your own soap from a variety of vegetable oils and natural ingredients.
Cornstarch - It can be used for starching clothes when ironing. Cornstarch is also an excellent deodorizer and bench top cleaner because it absorbs oils and greases and it is non-abrasive.It can be easily rinsed fro kitchen and bathroom surface

Essential oils - They provide pleasing scent to homemade cleaners and many have additional cleaning and bleaching properties.

Salt - Is an excellent mild abrasive that can be used for scrubbing. It rinsed off easily and does not leave a residue Salt can also be used to get rid of rust, mold and mildew, through its antiseptic properties.

Toothpaste (with natural ingredients) works very well as a mild abrasive for all sorts of scrubbing and cleaning jobs. It can be used to clean silver and other metals. It is also an excellent stain remover for tennis shoes, white shirts, and spots on linen and curtains.
Hydrogen peroxide is a natural chemical that can be used as a powerful bleach and disinfectant. It is excellent for treating blood stains.

Homemade Antiseptic and Fragrant Herbs - Many herbs are useful for cleaning, and antiseptics, apart from their use as natural fragrances. Some examples are lavender, tea tree oil, pine extracts, sage, peppermint, rosemary, myrrh, eucalyptus oil, thyme, cloves and wormwood. These ingredients can be added as fragrances to most homemade cleaners.
Homemade Alternative Cleaning Products and Recipes
Homemade Deodorizer and General Purpose Cleaner - Blend 2 tablespoons vinegar or lemon juice, 1 teaspoon borax, and 2 cup hot water. Or any other combination of borax, lemon juice, baking soda, vinegar, and hot water. Add your favorite essential oils for fragrance.

Air Freshener - Boil cinnamon and cloves and let the steam waft though the kitchen or bathroom. Use fresh flowers, essential oil diffusers or bowls of potpourri. Much better than the commercial air fresheners that use artificial scents. Use bowls of baking soda or vinegar to absorb odors in areas prone to smell. Wiping surfaces with essential oils also works wonders.
Bathroom Tub and Tile Cleaners - Use a combination of baking soda with a mild homemade or vegetable oil based soap. For spot stains and soap residues scrub with half a lemon dipped in baking soda or borax. Let the damp powder remain on the tough stain for 1-3 hours or until the next day, scrub and rinse off. To make a more powerful scouring powder, combine 1/4 cup borax and 1 cup baking soda sprinkle on and scrub and add some vinegar or lemon juice to create foaming action and scrub again.

Clothes Bleach and Whitener - Add about 1/2 cup borax to a standard laundry load. Adding 1/4 cup lemon juice to the rinse water, or vinegar also helps, especially if you then dry your clothes in the sun .

Dish Washing Liquid or Soap - Use a vegetable based soap. Grate it into a cup and let soak in warm water to dissolve

Disinfectants for Cuts and Scratches - For a powerful disinfectant, use rubbing alcohol, tea tree oil or hydrogen peroxide.

Disinfectant for Kitchen Surfaces and Chopping Boards - Mix 1/2 cup borax and 1/4 cup of tea tree oil to about one quart of hot water. Dilute when used.

Drain Blockages - Pour 1/2 cup baking soda, leave for a minute and then pour in 1/2 cup vinegar and let it sit. Repeat if necessary. Follow with a rinse of very hot water. Adding 1/4 cup of hydrogen peroxide to the blocked drainpipe is a good alternative.

Fabric Softeners - Pour 1 cup white vinegar into the fabric softener receptacle or pour into the machine during the final rinse cycle. Vinegar also functions as an anti-static agent.
Floor Cleaner (Vinyl) - Add 1/4 cup borax and 1/2 cup vinegar to 1 gallon (4 litres) of hot water. Rinse with soda water.

Floor Cleaner (Wooden) - Use a damp mop dipped in warm water and vegetable soap (Castile soap or Olive Oil soap).

Polish for Furniture and Floors - Mix 2 parts olive oil with, 1 part vinegar or lemon juice. Add your favorite essential oil or herb extract for fragrance.

Removing Water Spots - Mix about 10 drops lemon oil into 2 cups of vodka. Rub onto the spot to apply a thin coat and let dry.

Glass Cleaner - Make a cleaner by adding 1/8 cup of white vinegar to 1 cup water. Or add the juice from 2 lemons and 3 tablespoons or borax or salt to 1/2 cup water. Spray on or rub on with a cloth and wipe off using newspaper to avoid streaks.

Mirror Cleaner - Mix 3 tablespoons vinegar with 1 cup strong black tea. Spray or wipe over the mirrors and wipe off with newspaper.

Metal Polishes
Stainless Steel - rub with white vinegar.
Silver - Soak in a pot of water to which is added 1 teaspoon or salt or baking soda . Add some strips of aluminum foil. Let stand for 3 - 5 minutes. Rinse in clan water, then dry and polish.
Pewter - rub with a mixture of vinegar, salt and flour.
Gold - soak in warm soapy water made with vegetable soap. For stains brush with toothbrush and toothpaste . Rinse with diluted vinegar and dry with a cloth. Polish with chamois cloth.
Copper - Boil the copper items in water to which is added 1 cup white vinegar and 1 tablespoon of salt.
Chrome - Rubover the dampened surface with newspaper, or wipe with soft cloth dipped in vinegar or baby oil.
Brass - Rub over with a soft cloth dipped in baking soda and lemon, or vinegar and salt.
Aluminum - Rub with soft cloth dipped in mix of cream of tartar and water.
Mold and Mildew Treatment - Mix 3 tablespoons vinegar and 1 teaspoon borax with 2 cups hot water and pour into a clean spray bottle. Spray on the mold and rub several times. Rinse and wipe clean and spray again. Leave on to inhibit the mold. For bad mold growth wet with vinegar, add borax or baking soda powder and spay with vinegar to create a foaming action. To prevent mold growing back spray with vinegar and keep the area well ventilated and dry.

Shoe Polish - Rub a fresh banana peel all over the shoe, and clean off with a cloth.

Scouring Powder - Combine 1 cup baking soda and 1/2 cup of borax, sprinkle on and scrub with vinegar.
Stains
Blood Stains - For fresh stains immediately soak in water and rub with warm soapy water. For dried stains on clothes apply a mixture of 1/4 cup borax in 2 cup cold water. Leave or about 15 minutes and wash as usual. For very tough stains, put a small amount of hydrogen peroxide on stain and leave for 5 minutes before soaking in soapy water and washing normally.

Wine and Juice Stains - Pour seltzer water on the stain and leave for about 10 minutes. The stain will lift off. Repeat if necessary.

Grease Oil Stains - Cover stain with a paste made by combining equal quantities of baking soda, cornmeal and cornstarch. Let it dry on the stain, then brush off lightly.

General Stains - Spray with soda water or white vinegar to dampen. Sprinkle with baking soda. Rub into the stain and rinse off or wash in warm soapy water. Hydrogen peroxide is good for tough stains.
Related Articles about Cleaning and Homemade Soaps and Detergents
=> Homemade Window Cleaner Recipe for Cleaning Glass Easily
=> Best Way to Clean Inside Microwave Ovens - Easy, Safe Remedies
=> Homemade Natural Cleaners and Ingredients for All Household Cleaning